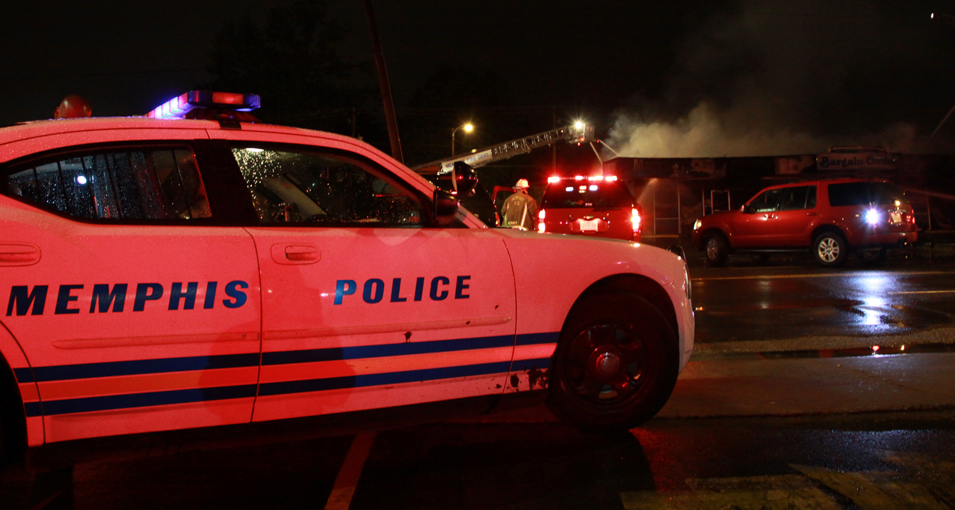 Published: Wednesday, April 22, 2009
It's 10 p.m. at the corner of Peabody and Bellevue, and three scantily-clad women stand idly on the street corner. They peep into passing cars, waving to the drivers as the women pace dutifully back and forth from the curb to the bus stop. A black BMW pulls up next to the trio, and the driver lowers the passenger-side window. A middle-aged man in sweats peers out.
"Hey ladies - just letting you know uniformed officers are on their way," he says. "You're working pretty close to Central High - that's a mandatory seven nights in jail."
Two of the prostitutes immediately scatter in opposite directions. The third - a short, chubby woman wearing a blue tank-top and white stockings - shoots the man a contemptuous glare before nonchalantly skipping away.
As head of the Carr Avenue Street Patrol, Patrick McGrail sees a side of the city that many Memphians don't. He's been watching for three years, along with a dozen other concerned residents desperately trying to stave off the crime that has been slowly surrounding their small community.
"I probably didn't change any of their lives just then, but at least they quit turning tricks in my neighborhood," McGrail says.
A former Tennessee National Guard platoon leader and home security analyst by day, McGrail started the Carr Avenue Street Patrol with his neighbor Rick Clark after Clark's house was burglarized three years ago. After the burglary, McGrail came up with the idea of a night patrol and managed to get several of his neighbors to join in.
"When we first got started, there would be some pretty heavy foot traffic through this neighborhood at all hours," Clark said. "Sometimes they come straight through and move on, and sometimes they try to stick around for one reason or another."
Sandwiched between Peabody and Lamar and on the cusp of downtown Memphis, the residential neighborhood of Carr Avenue is full of houses that recall an earlier, more genteel era in Memphis' history, with their high columns, stone construction and long service alleyways behind fenced-in backyards.
"It's a pretty peaceful neighborhood when you consider what's happening within a stone's throw," McGrail says.
However, less than a block north of where Carr Avenue begins near I-240, a sharp contrast takes shape. Hundred-year-old stone houses stand beside low-income residential complexes that are newly built, but poorly cared for, and boarded-up residences whose owners have long since given up hope. These recently erected structures and abandoned homes have quickly become places of vice - drug dens where the dealers peddle their poison and flophouses where the homeless and hopelessly addicted go to endure.
"Once you get to the area south of Central, the economic factors really start to change," McGrail says. "You go from $300,000 homes to $300 a month housing in a heartbeat."
McGrail said he believes that much of the crime that affects Carr Avenue flows from this area but recognizes that many of its residents are simply down on their luck.
"Many of these people in these neighborhoods are truly struggling to earn an honest living," McGrail says. "But then there are the others who are broke, desperate, with no other options. You think about the toll it takes on someone - it ain't easy being a piece of shit."
Every patrol begins with a short drive through the area surrounding Carr Avenue. This part may last up to an hour or two and mainly serves as a way for McGrail to get a feel for the type of traffic in the neighborhood on any given night.
McGrail passes the convenience stores, gas stations and late-night barbeque joints, giving each of the parking lots a cursory scan for illegal activity.
"Our job isn't to go out here and confront people - it's to keep eyes on and report to the police," McGrail says.
Tonight he stops in the parking lot of the Lamplighter Inn, a dimly-lit motel at the corner of Lamar and Bellevue, just a few blocks away from McGrail's Carr Avenue home. The parking lot is filled with Shelby County tags, a telltale sign that prostitution takes place within. Across the street from the inn, McGrail spots an old vagabond who he seems to be familiar with.
"That's John…John, John, John," McGrail says with a sigh, shaking his head as he points out a gray-haired man.
The man stands perched on the street corner in a tattered, knee-length coat, alternating between nervous glances at McGrail's still-parked BMW and sips from his brown-bagged beer.
"John goes around claiming to do lawn work, but he's a known thief in this area," McGrail says. "We caught him not too long ago stealing a stack of flower pots and a TV from someone's shed and trying to stash it in one of the alleyways."
As he continues his patrol back to his starting point on Carr Avenue, McGrail spots a disheveled man stumbling down the street. He drives by the man and waves "Hi," making sure to make eye contact. The man does a double take at McGrail and continues walking towards the underbelly of the I-240 Bridge at the end of Carr Avenue.
"Well, there's nothing down there - no houses or businesses - just construction," McGrail says. "But that's okay - he is officially out of my neighborhood."
McGrail also makes it a point to familiarize himself with the Phelps Security agents patrolling the area. Established in 1953, the private security company sends several top-lit red trucks to patrol neighborhoods and report suspicious activity.
"We do residential patrols, guard service and background checks for parts of Midtown, East Memphis and Germantown," said Lloyd Phelps, president of Phelps Security.
On an average night, McGrail trades information with a Phelps Security agent 2-3 times. They talk about types of traffic, individual suspects and concerns for the area. While not every neighborhood is willing to pay for the residential security service that Phelps provides, it has proven itself to be an effective way to deter crime, most notably in the Central Gardens area, according to Phelps.
"We've seen about a 42 percent decrease in criminal activity in that area since the last review," Phelps said.
Not everyone walking around McGrail's neighborhood is up to no good. Many people are just trying to get home, with much of the nighttime foot traffic in the area coming from people returning home from the late shift at Methodist University Hospital or one of the nearby fast food restaurants. McGrail points out an apron-clad young woman sitting in a parking lot, apparently waiting for a ride.
"Those are the people I feel sorry for," he says. "The ones who have to wait out in this mess."
After a short drive though the area surrounding Carr Avenue, the second part of the patrol begins. McGrail parks his car at the corner of Carr and Cleveland. He radios his partner, and they review what they have seen so far. By this point, few people roam the streets aside from the occasional dog walker. The street is almost completely silent, with the chirping of birds, the dull buzz of the streetlights and the sound of cars in the distance being the exceptions.
"It's quiet, boring," McGrail says with a satisfied grin. "There's nobody out here - it's exactly how we want it."
McGrail recognizes that many people don't approve of his work. He takes precautions before every patrol, making sure to notify the Memphis Police Department and Phelps security that he will be out patrolling. McGrail said that while some officers appreciate the help and encourage him to obtain clear descriptions, many would rather not work alongside citizens in this manner.
"I can see where they're coming from," McGrail says. "If they advocate people doing something like this and someone gets hurt, the responsibility would fall on their shoulders."
In the case of outright illegal activity, such as prostitution or drug dealing, McGrail tends to let the suspect know that they aren't welcome in the neighborhood and that lingering will likely lead to an arrest. However, the major problem in the neighborhood, as well as the reason behind the formation of the Carr Avenue Street Patrol - is burglary.
For the residents of Carr Avenue, burglary is the dark beast, lurking in the shadows. Sneaky and desperate, the common burglar often chooses to feed his desires after night falls. Unlike the crimes of prostitution and drug dealing, burglary is seen as something far less obvious, and as a result, much harder for citizens to defend against.
"Visibility is key. Just the fact that someone's there is enough to deter most people," McGrail says.
Passing by and saying "hey" is usually all it takes for McGrail to let people know they're being watched.
"We never interrogate - it's not our place to do so," McGrail says.
While McGrail recognizes that burglary is the main problem facing Carr Avenue, he sees drugs and poverty as the motive behind the thefts.
"What's driving our crime around here is drug addiction," he says. "It's people out here who are addicted with no other means of income."
A big part of McGrail's job is making himself known. He has personally met the residents of all 32 houses on his section of Carr Avenue. He knows their names, where they work and what they drive. While only about half of the residents support the Carr Avenue Street Patrol, everyone on the street knows about it.
"You want to know people and you want people to know you," he says. "Let people know there's not some vigilante nut laying claymores around the neighborhood."
McGrail rarely works alone. Typical Carr Avenue Patrols consist of two drivers who patrol the area surrounding Carr Avenue, as well as one stationary watchman who usually sets up a post outside his or her own residence.
When he first started, McGrail put his home security analyst skills to work by surveying the neighborhood and then forming a "target hardening" plan. "Target hardening" means taking obvious opportunities away from potential criminals. Adding a light in a dark alley, putting some barbed wire on a fence, and parking off the street are just a few of the simple things that McGrail encourages his neighbors to do to make them less of a target.
"You can't deter crime by addressing it after the fact," McGrail says. "Preemptive measures are essential."
McGrail's equipment for the night patrol includes a handheld walkie-talkie to keep in touch with other patrol members and a flashlight. McGrail's cell phone also serves as a vital link to local police and Phelps Security. McGrail is armed during his patrols but says he has never had to remove his gun from his holster in his three years of work and carries it strictly for self-defense.
"When we first started, I think we were a little over-organized," McGrail says, recalling how he used to bring binoculars and a clipboard with him on early patrols.
Members of the Carr Avenue Street Patrol include doctors, lawyers, teachers, cooks and homemakers. McGrail's partner, Rick Clark, works as a research scientist.
"We've got some really intelligent, talented people who know a lot about what we're dealing with here," McGrail says.
McGrail's organization operates independent of the local neighborhood watch and police, and his patrol covers but a single street. So far, no other group in the city is known to have formally adopted his method of crime prevention.